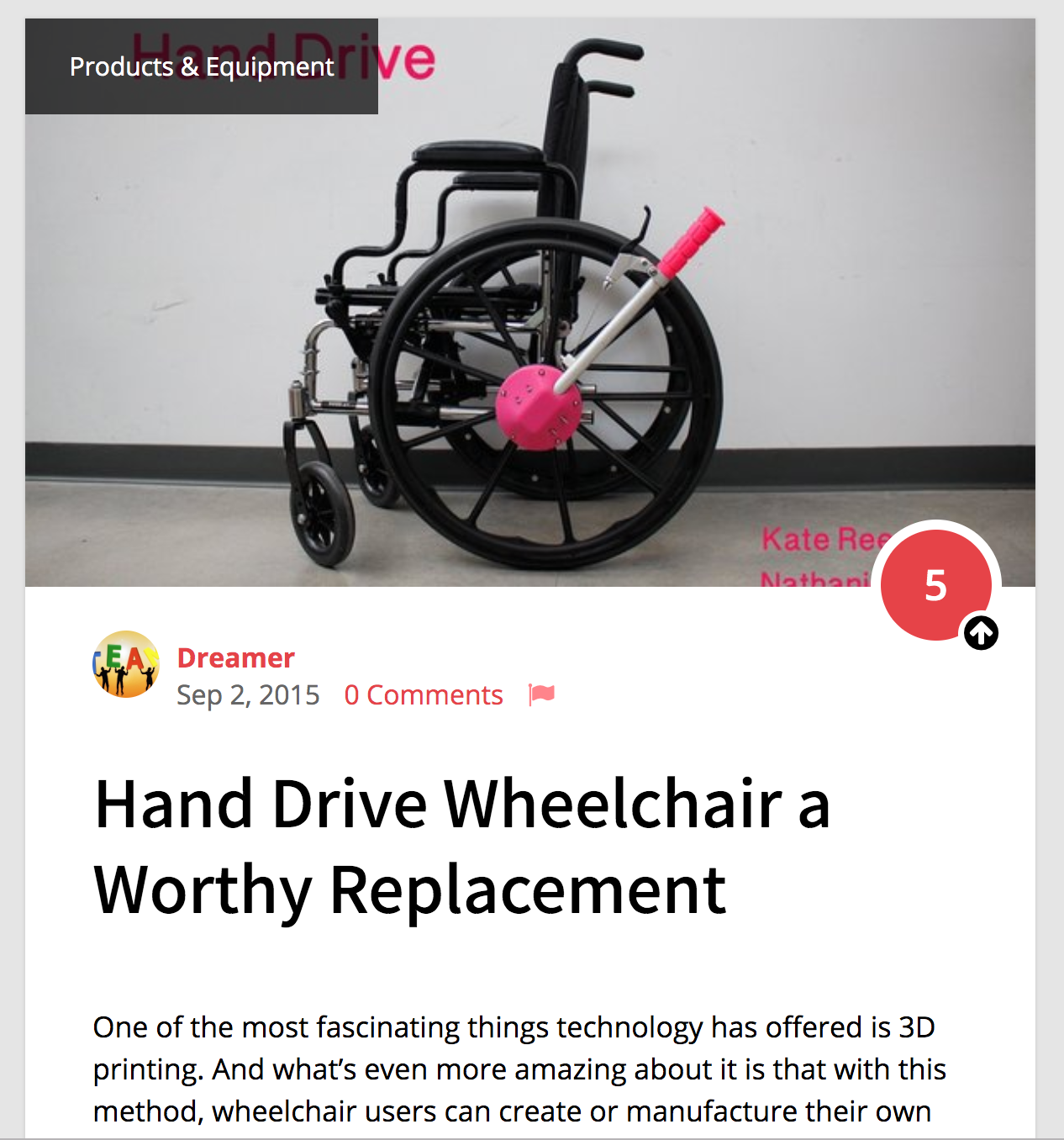 Hand Drive Wheelchair a Worthy Replacement
One of the most fascinating things technology has offered is 3D printing. And what's even more amazing about it is that with this method, wheelchair users can create or manufacture their own products which are cheaper than those sold in retail.
3D printing has been gaining popularity nowadays. Also known as additive manufacturing, 3D printing is the process of creating three-dimensional or 3D solid objects from a virtual design or digital file. By utilizing additive processes as well as digital technology, a 3D solid object is made. In such process, successive layers of material are laid down until the entire solid object is made or created.
With 3D printing, anyone can just make anything. The technology is already used in the fields of industrial design, architecture, automotive, footwear and many more. As the process becomes more common and cheaper, a lot of people are turning to this interesting technology and somehow favoring it.
Kate Reed, a street performer and an avid unicyclist, and Nathaniel Tong, an entrepreneur and competitive fencer, knew the benefits of 3D printing and so they joined forces to design and create a 3D printed Hand Drive wheelchair attachment. The product was so marvelous and useful, it was dubbed by Hackaday as 2015's Best Product.
Hackaday is a blog that publishes or serves up "fresh hacks every day" on the Internet. The articles or blog posts give engineers and engineering enthusiasts gold-standard software and hardware hacks. The staff and people behind the blog take "hacking" as a form art that makes use of an object or a specific material in a way in which it was not originally intended.
Kate and Nathaniel's wheelchair hack was something that wheelchair users have been considering to use. The duo's aim for making the 3D printed hand drive is to create an affordable attachment to replace the lever-powered wheelchairs which are quite expensive in retail. Originally, they planned on redesigning an entire mobility device but somehow realized that they can accomplish what they want by just simply hacking existing wheelchair designs.
According to the pair, the hand drive wheelchair attachment can be used or attached to any wheelchair. The product allows the device to be powered through a rowing motion. And this motion is better especially for the user's back since it uses larger muscle groups. It also keeps the user's hands cleaner.
The hand drive wheelchair attachment is made from six parts created through 3D printing, a bicycle brake assembly, an aluminum pole and a few fastening hardware.